As the 54th Annual Grammy Awards approach, Vertigo Shtick will be taking a look at the nominees for some of the 78 statuettes that will be awarded at the Staples Center in Los Angeles on February 12, 2012. Check back daily for previews of the pop, dance, r&b, rap, and general awards, as well as some of the more interesting standalone categories, and wow (or annoy) everyone at your viewing party with your dazzling Grammy knowledge!
Best Rap/Sung Collaboration
This category remains the same from previous years and honors a newly recorded performance by artists (singing vocalists and rapping artists who do not normally perform together. Both artists must be credited as featured artists, and there must be "significant performance by the collaborative artist(s) beyond what might be considered merely accompaniment." The award is given to and based on the performances of the artists, not on songwriting, production or mixing. (
Info
)
Beyonce & Andre 3000 - "Party"
(from 4)
Beyonce's latest album was an uneven mishmash of styles and songs performed
really
well, but then so were all of her previous albums, and 4 is by far the most intelligent of the bunch. As was the case with much of the material, "Party" got a mixed reception from critics and fans, but you might find reactions to be revealing: those looking for a hot dance floor jam generally found it "disappointing," while erudite critics commended the 80s synth production (by
Kanye West
, as it happens) and girl group harmonies, and hip-hop fans invariably praised Outkast rapper
Andre 3000
's effortless verse, which includes an extended (and deceptively filthy) dairy metaphor. This isn't the version you might have heard on urban radio; that remix features a shorter verse by Best New Artist nominee
J. Cole
, who originally recorded verses for the album track.
DJ Khaled, Drake, Rick Ross, & Lil Wayne - "I'm On One"
(from
We the Best Forever
)
I may have trouble filling up enough space with this one, but one can try. This is a chilly piece, mostly run by
Drake
, who sings and raps about celebrity and fame and being young and so forth.
Rick Ross
and
Lil Wayne
throw in a couple comments between meals, as they do, and if you don't feel like jumping off a bridge or at least having a stiff one afterward then your resistance to melancholia is stronger than mine.
Dr. Dre, Eminem & Skylar Grey - "I Need A Doctor"
So much hype surrounded this song you'd think it was the second coming of
Tupac
. There was the melodramatic performance at last year's Grammy ceremony, where the long absent
Dre
joined an earnest
Eminem
on stage and
Skylar Grey
made a show of singing in the dark because...well, we're not quite sure. Grey, who wrote
Rihanna
's part of "Love the Way You Lie" (and won't let you forget it!), was touted as the next big thing in pop for 2011 and Dre was supposed to have a long-awaited new album drop last year as well. Neither of those things actually happened, but we did get a nice single out of it, that sounds like a great cut from Eminem's 2010 album
Recovery
.
Rihanna & Drake - "What's My Name"
(from Loud)
Rihanna
's second single from Album of the Year nominee
Loud
was released so quickly after "Only Girl (In the World)" I remember being disappointed, as I much prefer the latter (and it won a Grammy last year). But, as usual with Rihanna, I guess I was the only one: "What's My Name" shot to #1 on the Hot 100 and it's sold over three million units in the US alone. Producers
Stargate
take Rihanna (who, at the time, was also trying to make it clear we were in different territory from her hard-edged post-
Chris Brown
incident
Rated R
) on a vaguely islandy "hey, remember when we found her in Barbados?" trip, and
Drake
...well, let's just say he has since handily outdone this performance, in which he attempts to solve a math problem. (For the record, the square root of 69 is about 8.3 - which means at least he was correct.)
Kelly Rowland & Lil Wayne - "Motivation"
(from Here I Am)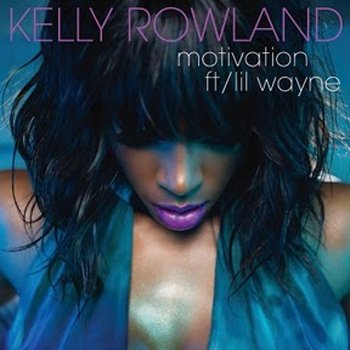 Kelly Rowland
had thrown single after single after single into the void in the hopes of reigniting her mismanaged solo career, and nothing seemed to stick (certainly not my favorite, "Grown Woman," or even "Rose Colored Glasses," which for all we know might have been done in by that terrible DIY video). Then, suddenly, there was "Motivation." It's slow. It's steamy. It's sexy. It's simmering. It caught like wildfire, and horny urban radio listeners got it to the top of the Hot R&B Songs chart and kept it there for six weeks (it peaked at #17 on the Hot 100).
Lil Wayne
's verse is one of his better guest spots, and Rowland pulls off the song's sensuality and rising/falling vocal intensity like the pro she hasn't been in the past. It's an understated slow burn that gets better with age and repeated listens, and one of the best singles of the year.
Kanye West, Rihanna, Kid Cudi, & Fergie - "All Of The Lights"
(from My Beautiful Dark Twisted Fantasy)
Only four artists won the nomination for this sprawling track from West's snubbed album, but don't be fooled: there are no fewer than fourteen guest vocalists smashed into this single, some you can pick out and others not so much. There's
Alicia Keys
(you can pick her out), there's
John Legend
(ditto), there's...
Elton John
?
La Roux
's
Elly Jackson
? It's all in the mix, which is kind of like cooking with expensive wine, but what else can one expect from Kanye West?
Fergie
comes on and raps, and Rihanna provides the sung hook - why not? I'd call the whole thing a bit over-inflated, but few seem to agree with me. The song is also up for Song of the Year and Best Rap Song, both songwriting awards.
Snubs
This category missed a number of particularly deserving collaborations, some of them more so than any of the six that made the cut. A few I would have liked to see here include
Ke$ha
& Andre 3000 for "The Sleazy Remix,"
Nicki Minaj
&
Ester Dean
for "Super Bass," and
Jennifer Lopez
& Lil Wayne for "I'm Into You."
Prediction
- I wouldn't feel terrible putting money on
Rihanna
and
Drake
and "
What's My Name?
", but not a lot of money.
Vertigo Shtick's Pick -
Look, Beyonce is great, and I'm not blind to the merits of Kanye's big Robert Altman number. but
Kelly Rowland
and
Lil Wayne
deserve this award for "
Motivation
."
These tracks and many others nominated for the 2012 Grammy Awards can be found on Vertigo Shtick's Spotify playlist "2011 Grammy Nominees (Songs - Overall, Pop, R&B, Dance, Rap, Remix)" Subscribe now and you'll be able to listen to all of the nominated singles we'll be covering here over the next two weeks!